If you want to create a home workshop in your basement or build a garage workshop, we can help. As storage and space de-cluttering experts, here are a few tips to help you clear out your space. Once you create space to set up a workshop or hobby space, you'll enjoy the convenience of having everything you need easily accessible from your home.
Assess the space and clear away what you don't need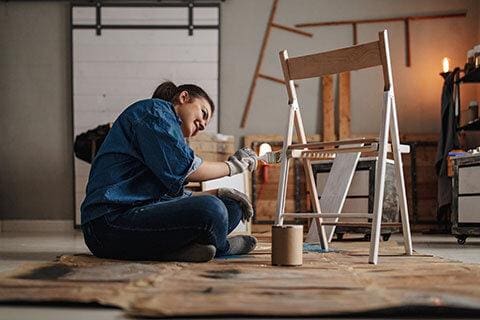 Wondering how to setup a garage workshop or home workshop? The first step is to identify the best area for your workshop and assess the area. Then, think about what you may need to make the space more functional.
One of the simplest ways to remove clutter is to store your belongings. You can rent a storage unit from StorageVille to create space for the things you need to support your workshop or hobby. Then, store things that are not directly related to your efforts with self-storage.
Explore options for vertical and overhead storage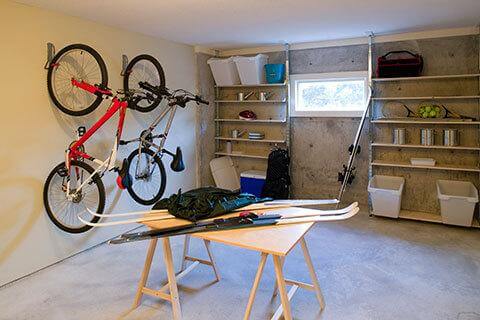 Vertical and overhead storage options are excellent for making the most out of a small space. Consider using a slat wall to meet different storage needs and configurations and buying floating shelves to stash your stuff high up on the walls, where it won't get in the way or take up floor space.
Create a multiple use workspace or a collapsible workspace
If you have a larger space, building a purpose-built multi-use workbench is a great idea, since it will be more stable and durable. This is particularly important if you're working with power tools.
However, those who have a smaller home workshop or garage workshop may want to get a collapsible or folding table/workbench. This way, it can be folded away if you need more floor space for your day-to-day tasks.
Invest in durable, easy-to-clean flooring and update ventilation
Garages or basements can be finished with concrete epoxy, linoleum, and a wide variety of other materials. Choose something that's durable and easy to clean, particularly in garages if vehicles will still park in the garage.
You also may want to think about ventilation if you'll be using any dangerous chemicals, sawing wood, or doing anything else in your workshop that may require proper ventilation for safety purposes.
Lock down your valuable tools and equipment with secure cabinets
Secure, padlocked cabinets let you keep your valuable tools and equipment safe. This is particularly important in garage workshops or other external buildings outside of your primary home.
Improve lighting fixtures and natural light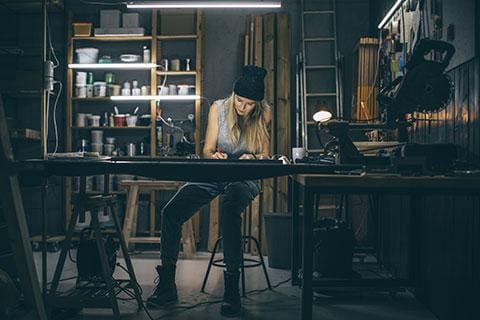 Adding windows may be an option to increase the natural light coming into your workspace. If not, or if the workspace will be primarily used after the sun goes down, invest in new lighting. Overhead and task lighting can go a long way to make sure you can see what you're doing in your home workshop or garage workshop – and increase its usable hours.
Check that your electrical needs are properly met
Extension cords and power bars are only a temporary solution. If you need more outlets in your workspace, it's a good idea to invest in the services of an electrician to add more power to different parts of your workshop or hobby area.
Add insulation for warmth and noise reduction
Insulation is particularly important in garages and is less of a concern in basements and other interior areas of your home. Fiberglass and spray foam are both good options. You may want to consult with a contractor or insulation specialist to determine your best options for insulation and noise reduction in your workspace. Also, be aware of the fire hazards a space heater can pose especially if there are flammable materials in your workshop. It's always best to look for permanent solutions than temporary fixes to heating your hobby space.
Need to create space? Contact StorageVille today!
Wondering how to setup a home workshop or garage when you have too much stuff? The very first step might be to create space! And with that, StorageVille is here to help! We have many different types and sizes of storage units available. We'll be able to help you select a self-storage option that a good fit for the belongings you need to store. We have the best value-proposition in the business, backed by a knowledgeable, friendly team, and flexible rental terms. Just ask us!
Contact us online to learn more and inquire about renting a storage unit from StorageVille.