Becoming more and more popular the "Man Cave", "Man-Space", and "Manctuary" whatever you want to call it...
Why are they creating this space? Men say that they are at the end of their rope from arguing with their partner at least once or twice a week about the space their possessions take up. But it's not all doom and gloom. Men believe that having a place where they can store their possessions and indulge in their pastimes is actually beneficial to their relationship.
Both men and women can benefit from this time apart. Why?
"Because this freedom and space is key to a healthy and balanced relationship."
With a rise in the number of couples co-habiting, space is more precious than ever and men are demanding a private sanctuary to call their own.
Here are some suggested steps to take if you're in the business of building a "Man Cave":
Step 1: Identify the space
100% yours to own and decorate - Whether it be a garage, basement, den, attic or a study just be sure it's secluded and has a lockable door. Make it your own; decorate it, use it however you chose.
Step 2: Clear it out and outfit it
Clear out all boxes, furniture, everything must go... (*need somewhere to store your items? Call us first!) Take your room and give it a good clean first then locate the focal point of the room. What do you want to put there?
Step 3: Paint it!
A fresh coat of pant does wonders... stick with dark blues, greens, grey, or reds with accents of black and brown.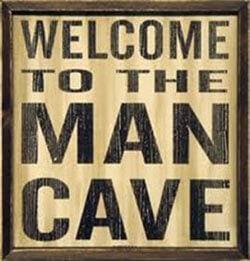 Step 4: Storage Options
Find storage options that can handle anything from power tools to a 18Volt Battery.
Step 5: Stock it!
Simply put! However you decide.
Step 6: Break it in!
Just like a house you need to invite people over and show off your new digs. Invite some buddies over and watch their amazement... followed by jealousy!
You're welcome!