At StorageVille, we make it our mission to be there for you – when you need a storage unit – for any situation life might throw your way. In this three-part series, we will look at self storage during three different life events. In the coming months, we will examine ways "Self storage solutions can help make your home office or business better". We will follow with "how self storage can assist during life's unexpected events".
However, for this month we will take a look at benefits of self storage during selling, moving and renovating your home. Each can be a large undertaking – with many moving parts – which can put a damper on anyone's life. However, our suggestions below will have you ready to take the next steps – no matter what challenge you are facing.
Storage unit benefits during selling your home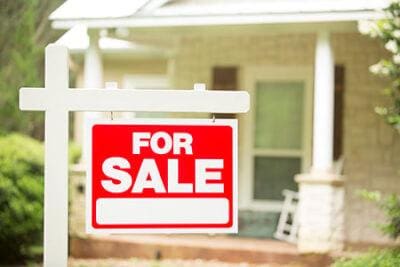 You've decided to list your home on the market. You've gone through the process of finding a suitable realtor you'd like to handle the sale for you. They come to your home to analyze and prepare the listing information. While they are reviewing the property, they mention the clutter of the space. They even go as far to suggest enlisting the services of a home staging company – but where are all your prized possessions going?
The impact of a cluttered home
Hearing about the clutter in your home can be a difficult pill to swallow but, as the professionals, they are right (and have sales data to back up their claims) – cluttered homes can sell for less value. It's important to know there is a difference between a home's appraisal value – versus the marketability, which is what a cluttered home could impact; see article: http://www.cbtownandcountry.com/home-sales-and-the-ubiquitous-clutter-effect/
To make sure you receive the maximum return on your home during its sale – put infrequently used items into a storage unit. Renting a storage unit from us during the sales process will be a fraction of the cost when compared to the lost equity due to the sale of a cluttered home.
Along with the retention of the money you've invested into your home, using a self storage unit can benefit the sales process in the following ways:
Having less clutter usually means your home will be easier to clean in between showings.
Applying a fresh coat of paint (and other minor repairs) will be less strenuous with less to move.
You won't need to rely on space in other areas of your home – i.e., an outdoor shed or garage is subject to weather. Instead, use our temperature controlled storage units. As well, security on external buildings found on your property won't match features our secure self storage facilities offer.
Garages often have the worst clutter in a home. To some buyers that conveys a negative impression on your home. They also can't envision their belongings in the area that is overly cluttered.
On top of all this – you can arrange your storage unit and provide a vacating notice once your home is sold from the comfort of your own home 24/7 through our website.
Self storage unit benefits for moving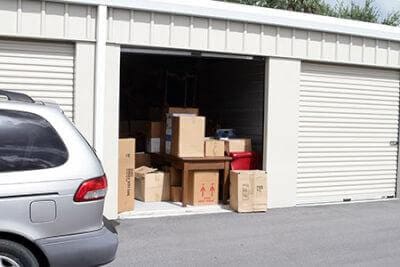 There is no doubt you'll encounter similar issues with "too much stuff" listed within our tips for selling as there is some overlap between these life events… But moving comes with its own set of logistics and if not properly planned for can transform into a nightmare.
If you took the advice listed within our "selling your home" portion of this article, you'll already have some of your possessions in a self storage unit. Why not leave them there until you receive the keys to your new home? Your home remains uncluttered while you pack the rest of your belongings. And this puts you one step ahead with your relocation process.
When the day comes where you can access your new home, we recommend completing your unpacking process in two tiers. The first few days you'll be busy with the essentials you kept out of storage. Get these belongings in place before starting the second half. Once you have your belongings tucked away, proceed with your items in self storage.
On top of this all – take full advantage our FREE cube vans for up to four hours. The cube van is perfect for the transit of stored items.  We can become your one-stop shop for all things required for a successful transition between homes. We have moving supplies and moving boxes as well. If you need the cube van to move out, be sure to ask about the 50% discount!
Self storage unit benefits when renovating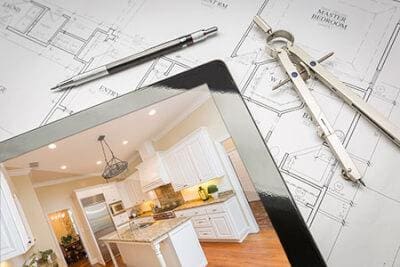 For most, a renovation is an investment in their single most valuable asset. You want it done right, on time and budget. But just like other items mentioned, any renovation project needs planning and calculation of resources available while your home is under construction.
Like the realtor, the home renovation specialist you hire is a professional in their industry. If the space you're renovating is excessively cluttered, you will only slow them down. Due to this, your project may end up more expensive.
Besides the expense factor, having clutter can increase the chances an injury on the job site. While any renovator will take precautions while they work – accidents can happen. Also, before hiring a contractor, make sure they provide you with a Workers Compensation Certificate indicating that they are covered. If not and someone gets hurt, you could be liable.
In addition to accidents resulting in injury, the more valuables you have cluttering the space – the more likely something can be damaged or broken. Don't risk your possessions. Store them in our clean and secure, temperature controlled self storage units during your project.
We are here to help!
We are here to solve your storage needs! Our goal for our potential clients or repeat customers is to enjoy their life – even in times that can appear stressful. When you contact us for self storage, know you are contacting Winnipeg's leading storage facilities. Besides our value propositions of accessible, convenient, clean and secure storage units, our team is friendly and invested in your best interested.
Many of others in the storage unit business are from out of town. We are locally owned; committed to Winnipeg. We have a vested interest in being Winnipeg's top choice for self storage units.
StorageVille… Where Winnipeg Stores