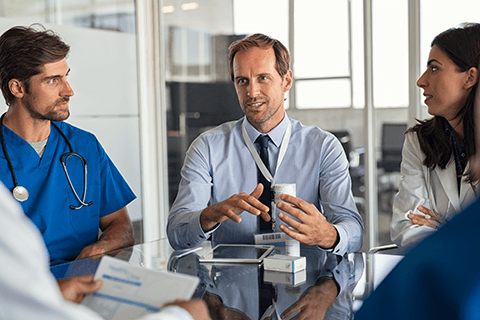 Are you a sales representative or pharmaceutical representative in Winnipeg? Are you in need of storage space for your business?
StorageVille
is here to help! We offer the best small business storage for sales and pharmaceutical representatives. Learn more about our self-storage solutions below and see why you should pick StorageVille for your storage needs in Winnipeg.
The benefits of self-storage for sales representatives and pharmaceutical representative
Are you wondering why you should rent a self-storage unit from StorageVille? Here are just a few of the benefits that sales and pharmaceutical reps can enjoy if they choose our self-storage services.
Our fully secured, gated location has -staff throughout the day and 24/7 video surveillance, and each of our storage units is equipped with a high-security, custom disc lock to ensure that your items are completely safe and secure. And every locker is alarmed and monitored by Bell MTS.
We offer a huge variety of storage units to meet the needs of all business owners. If you're in sales or you're a pharmaceutical representative, you can get a unit as small as just 5×5 feet, all the way up to our largest, 10×30 foot units. Whether you just need to store a few documents and samples, or you need to store a large number of business-related items, we're here to help.
Avoid storing items at home
Storing your items at home isn't always an ideal solution, particularly if you're running low on storage space, or you have an unfinished or poorly ventilated attic or basement. With a self-storage unit from StorageVille, you can store all your stuff outside of your home. Along with potential damage to the product, certain pharmaceuticals may be targets of theft or may present a hazard having them at home.
No need for additional office space
Declutter your office and avoid moving to a larger office due to the need for additional storage. You can move all your backup samples, point of sale material and other business-related items to StorageVille, and ensure your office is neat, tidy and organized.
Temperature-controlled storage available
Our temperature-controlled units are kept at a consistent temperature both in the summer and in the winter. Whether you're storing documents, electronics, pharmaceutical samples or any other temperature and humidity-sensitive items, we can keep your items safe and secure. The heated and air-conditioned lockers make retrieving and loading your locker easier due the controlled environment.
Accessing a non-temperature controlled self-storage unit during winter months in Winnipeg can be chilling (literally). Not the most pleasant place to be – we highly recommend our indoor, temperature-controlled storage for business purposes!
There's one noticeable advantage to our non-temperature-controlled units, which is the fact that you can drive up to access them. If your product or items requiring storage can weather the conditions outside, our non-temperature-controlled storage option is ideal for easy of access to your unit.
For all these reasons – and quite a few more – we're the best choice for self-storage for sales representatives and pharmaceutical representatives.
Our value-add services keep your business running smoothly!
We don't just offer self-storage solutions in Winnipeg – we can also provide additional services for your small business.
Receiving pallets/deliveries on your behalf
We can receive deliveries of all sizes on your behalf and store them to ensure they are properly managed. If you'd prefer not to have items sent to your home or office, sending them to StorageVille is a great option.
Mailing service/courier assistance
If you have something to ship out, drop it off in our office, call your courier company and we will see that it gets sent out. You won't need to spend time sitting around waiting for the courier to arrive – either at your office or home.
24/7 storage unit access
Need to get to your unit at any time of day or night? No problem. Just let us know, and we'll ensure that we make the proper arrangements to provide you with 24/7 access to your secure storage unit. However, this service is for our sales reps and business owners exclusively.
Contact StorageVille and get the storage services you need today!
If you're a sales or pharmaceutical rep in Winnipeg and you need additional space to store documents, samples and work-related items, StorageVille is the right choice for you. Contact us now online or call our locations – Waverley: 204.272.4533 or Reender: 204.272.4687 – and get the storage solutions you need in Winnipeg.