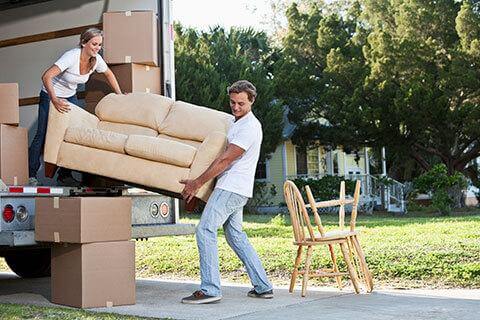 When you need to move, space, time, and money are of the essence. Renting a cube van can make the entire process much easier and less stressful for you and your loved ones. At StorageVille, we're happy to provide our customers with cube vans rentals. Our cube van rentals are equipped with roll-up rear doors to make it super easy and convenient for loading and unloading your things.
Our storage unit customers benefit from a free cube van rental for up to 4 hours during your move-in. If you're moving out of your storage unit, we offer a 50% discount on our cube van rentals. However, if you simply want to rent a cube van – we do that too! Why else should you consider using a cube van for your next move?
Cube van rentals – best use of space
They offer movers the best use of space. Cube vans don't have sloped sides, so it's easy to stack boxes and other items along the sides of the van without sacrificing space at the top. Cargo vans don't give you the ability to stack and pack your items tightly on the sides, and in higher spaces of the cargo hold. If you must move a lot of smaller items and boxes, or larger pieces of furniture, a cube van can easily meet both needs.
Cube van rentals – protection during transportation
When using a cube van rental, your belongings will have protection during transportation. Even if the forecast calls for sun, the weather in Winnipeg can change in a moment's notice. Don't get caught with your belongings in the back of a truck should it rain. As well, sun exposure isn't great for some household items. No matter the season – winter, spring, summer, or fall, protect your items when you move.
Cube van rentals – save time and avoid the hassle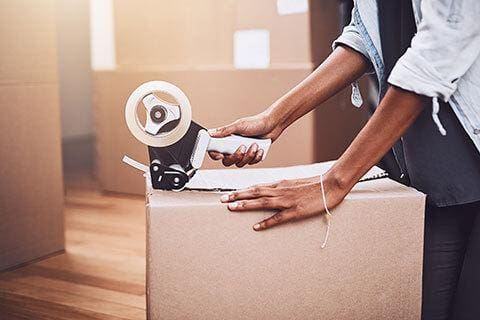 You'll potentially save time and avoid hassle when you use a cube van. Since you can pack more items and furniture into a cube van, you won't risk having to make multiple trips back and forth for your stuff. You can also potentially fit everything into one cube van, for one trip, reducing your chances of having to use more than one van for the move.
Besides the benefit of larger loads, should you be renting a storage unit during this transition in your life, you'll only need to make one stop on moving day. We reduce the hassle and save you time, by renting our cube vans on-site. We push this convenience further, by offering online cube van reservations on our website. Simply supply some short details about yourself, the location you're renting from, the date for rental, time period, and length of use – and a friendly StorageVille staff member will confirm your rental, shortly after booking.
Finally, in addition to having your storage unit and cube van rental from the same location, we stock moving supplies on-site. Our inventory includes moving boxes in a variety of shapes and sizes. We also carry packing supplies such as packing tape, wrapping paper, and bubble wrap. And finally, we have other tools for moving like appliance and utility dollies, and moving carts.
What makes StorageVille cube van rentals the ideal choice for moving in Winnipeg?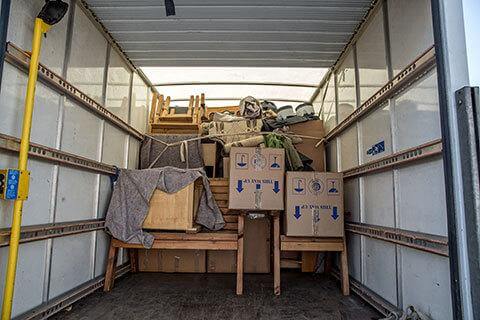 At StorageVille, we offer our valued customers a chance to get their convenient and roomy cube van for FREE. All you are responsible for is selecting the insurance plan and refilling the gas you use. The cube van rental comes with MPI coverage at the standard amount for the deductible. We also offer optional lower deductible amounts for any renter who wish to pay for this option. For any move-in to our storage unit facility, at a minimum, all storage sizes of StorageVille storage unit rentals can be used for free for up to two hours. In addition, some specific storage unit sizes are eligible for free rent for up to four hours.
50% discount for move-outs from our storage units
Should you be finished with your storage unit and require a method to transport your belongings to a new location, we offer discounts. For any move-outs from our storage unit facility, we provide a 50% discount on the cost of your cube van rental from us.
However, if you just need a cube van rental without a storage unit, we're glad to accommodate your needs for your move. Renting from us is a breeze with our quick and convenient online rental form – book directly from our website. Alternatively, you can call us at 204.272.4687 for service at 123 Reenders Drive.  Or, if you prefer, call 204.272.4533 for service at 830 Waverley Street. We'll be happy to answer any of your questions.
The cube van rental process
To give you a sense of the process for renting a cube van from us, here's a quick outline of the steps involved.
Booking the cube van
Book your cube van rental on our website. Let us know your details, location to rent from, date, time and length of use.
Picking up the cube van
On the day of your booking, visit your preferred location. A StorageVille staff member will be on-site to process the necessary paperwork. Our staff will cover the additional rules and how the cost of the cube van rental is calculated, based on mileage.
Please bring your valid driver's license (we will need to make a copy of it). We carry basic, comprehensive insurance options, so additional insurance isn't necessary.
We also require a deposit to be left with us on a valid credit card. The deposit transaction is a precaution and will not go through should our cube van be returned to us.
After the paperwork is complete, you and our staff member will go outside, completing a quick walkaround of the cube van's current state, including any existing damage. We also take a reading of the amount of gas.
Returning the cube van
The cube van is now yours to use for the length of time indicated.
Before you return the cube van, you're responsible for topping up the gas to the level indicated during the initial inspection. Failure to do so will result in additional fees.
Then, simply park the cube van on our lot and step inside the StorageVille office to drop off the keys. A staff member will quickly process your paperwork and accept any final payments required based on usage.
In summary, StorageVille is your best option for cube van rentals in Winnipeg. We combine convenience, accessibility, and flexibility through our online booking process, two locations, and pricing structure with storage unit rentals. For service contact us today. We look forward to helping you make your next move a success!