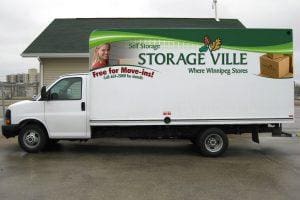 Need a cube van for moving?
Use our form below for immediate cube van rental booking.
FREE for up to 4 hours – depending on locker size
All sizes of locker rentals are eligible for FREE 2 hour use
50% off the cost of the cube van rental
Valid only Monday through Thursdays
Not valid 29th through 1st of each month.
Rental does not include other charges*
If you just want to rent our YOU haul cube vans without moving into our out of our storage lockers – we can help you!
Cube Van Details, Rules, and Regulations – read this before renting!
How to rent
Reserve the cube van by using the form below to request a cube van with or without a locker rental.
If you want to rent the cube van to vacate your locker – please visit our Vacating page.
StorageVille will contact you to confirm your rental requests within 24 hours.
We require 48 hours' notice for any cube van rental cancellations. If you need more information about our cube van rentals, our storage lockers, and facilities or if you would like to book a tour – please contact us your preferred location – 123 Reenders Drive call 204.272.4687 or 830 Waverley Street call 204.272.4533.
**Other charges such as km's, fuel, cleaning, deductible, l.o.u., if applicable
Cube Van Reservation Form