Are you a small business, sales rep or agent looking for extra space?
At StorageVille, we understand the needs of small businesses and sales representatives. As a small business, sometimes you need to alleviate a temporary shortage of space, store assets or documents, office relocation, or need to remove general clutter. Independent or regional sales reps are often required to have some volume of inventory sales material or product available to them for sales calls. What do you do in these situations?
Many companies require their reps to store samples in their homes. Depending on the samples, such as pharmaceuticals, they may present a hazard in a home with children or pets. Off-site safe and secure storage may make sense.
If your situation is that you're short on space – we are your solution! We offer reliable, secure, accessible and convenient storage units at an affordable rate.
Reliable Small Business Storage
Our facilities and grounds are clean and presentable. Upon visiting you will see the pride we take in maintenance which translates into reliable service and storage units – ready for whatever you might need to store, for however long your small business may need to store.
Along with our clean facilities, our reliable office staff can receive and accept packages on behalf of your company. Imagine not having to be present when a package arrives.  Maybe a package left by your front door went missing, we can eliminate that possibility. When you're ready, just come to pick your items up!
Secure Small Business Storage
Security at our storage unit facilities is always top of mind. We have many features which protect your stored items; 24/7/365 video surveillance, individually alarmed and monitored storage units, secret pin codes for access to secure areas, and high-security disc locks to name a few.
Accessible Small Business Storage
StorageVille hours offer plenty of flexibility for you to access your stored items. Office hours are M-F 9:00 AM-6: 00 PM, Saturday 8:30 AM-4:30 PM, Sunday 11:00 AM-4:00 PM. Our gate access is 6:00 AM-11:00 PM daily. Should you wish to have 24/7 access – special requests can be accommodated – ask us! Especially useful if you are coming off the road from a long sales trip.
Convenient Small Business Storage
Convenience is a huge part of how successful a business may be. We have two great locations to serve the Winnipeg small business community. If you're in the North-East area – we recommend our storage unit facility at 123 Reenders Drive. For small businesses in South-West area of Winnipeg – our 830 Waverley Street location is the best-suited option.
Need transportation of your stored items?
Our enclosed 16-foot cube van is available for up to 4 hours for free when moving in.
No need to run around organizing transportation for your samples or files.  And, best of all, you only need to replace the fuel you use. Along with our move-in offer, our cube vans are available for rental whenever may need the extra assistance.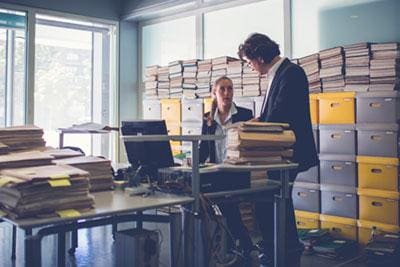 Our small business storage units are perfect for:
Local Winnipeg small businesses in a wide range of industries
Winnipeg-based sales representatives, sales executives or associates
Pharmaceutical sales representatives
Sports agents or talent agents/representatives
Brick and mortar store owners with seasonal displays or inventory
File storage for legal and accounting offices who may be ceasing their practice
Small business storage unit sizes
StorageVille has a wide variety of different storage units, in many different sizes. Of course, it can be hard to figure out what size of self-storage unit you need. We are confident that we will find a solution that meets the needs of your small business today and help you grow in the future. For a personal consultation, contact us today! For more information on the storage unit sizes available, visit our "Storage Unit Sizes" page or our "Storage Unit Size Guide" tool.