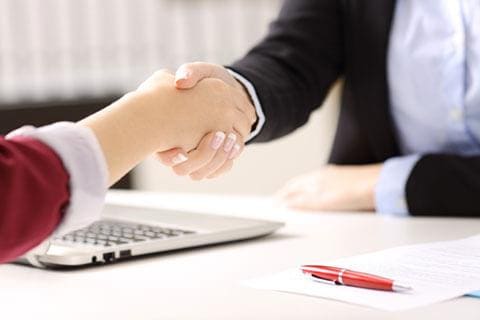 Welcome to StorageVille, where we go beyond merely providing self-storage units – we deliver peace of mind, safeguard cherished belongings, and extend a helping hand to people in need. Our core values revolve around accessibility, convenience, cleanliness, and security, but we pride ourselves on being more than just a storage facility – we are your trusted partners in ensuring an exceptional customer experience.
At StorageVille, we believe that our success lies in our friendly and customer-focused approach. We understand that storing your belongings is not merely a transaction; it's an important decision that requires trust and reliability. That's why our dedicated team is committed to making your storage journey seamless and stress-free.
But what truly sets us apart is the passion our self-storage unit staff members bring to their roles. We asked them what being a part of the StorageVille family means to them, and their answers were heartwarming. Their careers here hold a special place in their hearts because they know they are not just providing storage solutions; they are making a positive impact on people's lives.
Our team takes great pride in being your storage companions, offering guidance and support every step of the way. Whether it's preserving your cherished memories, safeguarding valuables, or helping you during transitional phases, we're here to lend a helping hand. Your satisfaction is our utmost priority, and we strive to create a warm and welcoming environment for everyone who walks through our doors.
At StorageVille, we are not just in the self-storage business; we are in the business of building relationships. Trust, reliability, and genuine care define our interactions with each and every customer. Join our StorageVille family today, and experience self-storage like never before – where peace of mind, personalized service, and customer satisfaction are at the heart of everything we do.
At StorageVille we know our self storage units are more than that – we deliver piece of mind, we store cherished belongings and we help people. In addition to our mandate of accessible, convenient, clean and secure self storage – we are friendly and focused on the customer's experience. We asked our self storage unit staff members what it means their career with StorageVille means to them and how they have helped our customers in the past.
Shayna Hinz
Customer Service Representative
How we help with self storage units?
I believe we are in the service industry. We provide storage unit services and strive to deliver the best experience, product, and customer service available.
My favorite moment with a StorageVille customer?
Recently, a new customer came popped into one of our locations not knowing what we offered. He had a problem that required a quick solution. He explained that he sold his home, was looking for a new one, but needed short-term storage for most of his belongings. Immediately, we were able to impress him with how easy it was to choose the correct size of self-storage. He enjoyed the added convenience of re-occurring credit card payments for his storage unit. We surprised him with how fast and painless the entire process was. Personally, it made me extremely proud of how prepared we are to serve our customers.
---
Debby Dowse
Assistant Manager
How we help with self storage units?
I firmly believe we are in the "people" business. We provide information and education to people who have never used self storage units before. We solve people's transportation problems with our cube van rentals (which is free for move-ins!). We solve people's packing and moving problems by selling moving supplies. We solve people's problems during life's many transitions by renting space for them to safely store their belongings for any length of time. We our more than "just storage units" – we are a rental, retail, customer service based business that focuses on helping people!
My favorite moment with a StorageVille customer?
Recalling an event where we helped "people" – a couple was in the midst of extensive renovations and the wife was quite stressed with the entire situation. She called our office, panicked, and in need have help. I calmed her down and informed her we could provide the self storage unit assistance she needed. The next day she came to our office and everything was booked within a matter of a few minutes – including a free rental of one of our cube vans.
A few weeks after the move-in we heard from her again – she was concerned as the renovation was pushed back several weeks. I ensured her we could continue to store her belongings for as long as she needed the service. In the end, her home was eventually finished and on move-out day, she came into the office and personally thanked all the team members that assisted her during the short term storage unit rental.
---
Lynn Chartrand
Customer Service Representative
How we help with self storage units?
We make things easy for any customer to move in or out, to declutter their home, garage or office space. We provide services for storing vehicles, trailers, RV's or motorcycles. We have moving supplies and we are able to receive shipments on your behalf. Our cube van rentals are an additional conge/venience to anyone moving within Winnipeg. Given all of this, the best way to describe StorageVille is a one-stop shop solution center for storing, parking, packing or moving, at a reasonable price, for all who are interested in a DIY (Do-It Yourself) approach.
My favorite moment with a StorageVille customer?
One of my favorite customer services experiences had to of been when a couple came in looking for a short-term self storage unit rental that required a quick turnaround. They had just sold their home, but needed to rent an apartment for the time in between getting another home. The situation got sticker when the apartment they rented was going to be delayed. They were quite upset but I took care of them. I helped them select the right size of temperature controlled self storage unit, rent a cube van and setup a monthly, re-occurring, pre-authorized credit card payment.
After roughly a month of using our storage facility they returned as their apartment was ready. They were much different this time around as you could tell the solution we provided for them offered relief from the stress they were facing. At the end of the move-out they informed me they loved the service we provided and that they would recommend StorageVille to all their friends and family.
---
Glen Ladell
Manager
How we help with self storage units?
We help people who may be are going through a life change. Not all life changes are happy events and moving can be a stressful situation. During these transitions we provide help. At StorageVille, we realize these are not just customers but they are our neighbors, our friends and our family who need our assistance in our community.
My favorite moment with a StorageVille customer?
Calling upon a single memory of a customer we've helped is difficult – as we have helped so many. Perhaps one of the memories that were most touching was early last summer. We had a couple come in and inquire about self storage unit for the wife's mother. She was moving to a personal care home, after living in a home for several years. The home was full and contained numerous items from the grandparents and great-grandparents – spanning many generations. The keepsakes ranged from precious family photographs, papers and documents to antique furniture and other sentimental keepsakes. Right away, I felt they needed to have a temperature controlled self storage unit due to the sensitive nature of the belongings. However, the couple was skeptical, as they had already been to other storage facilities and felt they fell short of what they were promising.
I invited them on a tour of our facility and upon entering the temperature controlled building, their minds changed immediately. They were specifically impressed with the climate and the cleanliness of the facility – the hallways were adequately lighted and the air conditioning was maintaining the building's temperature on the hot day. By the end of the tour they made their storage unit reservation – after they signed the papers, they informed me what an enormous amount of relief our solution provided them. And now they know that not all self storage unit companies in Winnipeg are operated by the same standards we have at StorageVille.
Interested in experiencing our dedicated customer service, self storage team? Visit us at your preferred location – 123 Reenders Drive in North and East Winnipeg or 830 Waverley Street for South and West Winnipeg.