As humans, we tend to surround ourselves with things that are dear to us. We place great value on the items that we like or those that we use regularly. However, we also tend to keep the things that we don't need anymore causing clutter. Being early in the year, and often a difficult time for many individuals, we thought to cover some of the ways to dodge the winter blues using self-storage. The purpose of this article is to educate you on the benefits of decluttering and teach you how you can improve your life with self storage.
The effects of clutter and how it negatively affects you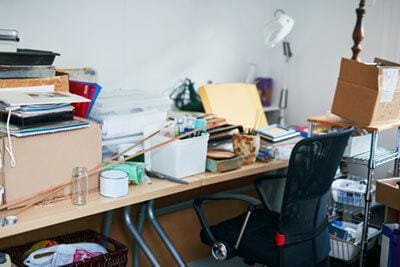 When you live in a cluttered space – be it at home or work – you are under constant exposure to stimuli that can affect how you function. Clutter doesn't occupy only the physical space, but it can also take over your mind and negatively impact your cognitive functions.
Some quick facts on the impacts of clutter or decluttering (1)
9 in 10 experts say decluttering helps increase the value of property
Decluttering can save 15-20% of your annual budget due to better decision-making
32% of individuals admit to keeping a disorganized workspace
28% of employers say they are less likely to promote someone with a disorganized workspace
Up to 4.3 hours per week can be spent searching for papers in an cluttered home office
A cluttered space can get in the way of what you wish to accomplish because it's distracting and suffocating. It's like being in a crowded museum – you can't see the beauty of the artwork because of the additional visual noise surrounding you. Someone is wearing a colorful hat, a woman is walking too quickly, art students are loud, and everyone is trying to see that one painting featured in the latest art magazine. Now, imagine that same museum, this time empty with only you walking around. You can take all the beauty in, hear your thoughts, and get inspired. The same goes for your working or living space. If something is too crowded, it loses its essence.
The benefits of decluttering
It's not only that clutter can have a negative effect on your mind, but it can also slow your life down. Having too many things around can lead to a paradox where the more options you have, the more difficult it is to make a decision. By only keeping essentials, you can think, decide, and act faster. This minimalist approach will allow you to focus your attention on the things you need rather than on the things that only take up space.
With that in mind, here are some the benefits decluttering could bring:
Improved focused
When there aren't a million distractions, you can finally focus on the task at hand, boosting your productivity. Something as simple as removing the extra papers on your desk can have a significant impact on your ability to focus and process information.
Enhanced creativity
One common misconception is that creative types are also messy. But, studies show that a decluttered environment can improve the creative process. By contrast, a chaotic desk or studio that forces people to divide their attention between stimuli can lead to stress and creative blocks.
Your mood will imprhttp://thewritelife.com/messy-desk-hurting-writing-career-heres-fix/ove
If you're feeling particularly moody but can't quite put your finger on the reason, then clutter may be at fault. That's because the visual cacophony sends a subtle message to your brain that you don't have your life together. Decluttering, on the other hand, can not only improve your mood, but your self-esteem too.
How self storage can help the declutter process
Now, it's not mandatory to throw everything away. You can manage all the things you own with something very simple like self storage. That way, you can keep the objects you want to save – like old photos, your prom dress or gifts you've received from loved ones – but you get them out of your way.
Don't assume that you need to declutter everything at once. Start slow; prioritize everything based on importance, and move at your own pace. If you set unattainable, unrealistic goals, then you will lose your motivation faster than you can say "clutter."
Using self storage for the declutter process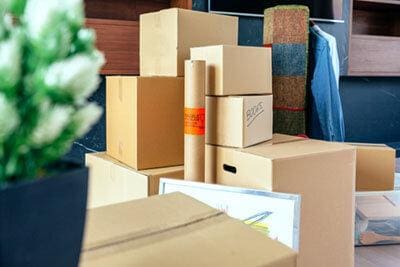 It's wise to think about what you are going to do with the things you sort. Should you skip this step, at the end of the declutter process, you will be left with a pile of stuff, wondering what to do with it. Potential options include:
If you choose to donate, look for charities that are close to your home.
If you plan to store them, find the best self storage solution before you start decluttering. Not interested in the research? Give StorageVille a call – we will show you our advantages covering accessible, convenient, clean and secure storage solutions.
We can also recommend charities to donate items, including our partnership and bins on location, with the Salvation Army Thrift Store.
Self storage can make the entire process easier because you are not giving up on anything. You are simply moving it elsewhere to make some room. You can still access everything – it just won't suffocate you anymore. That can bring you some peace of mind if you're feeling anxious about removing items from your home or office.
Recap on the self storage and clutter conversation
You may not realize it, but clutter can have a dramatic impact on your life. All these stimuli can make it hard to focus, increase your stress levels, and affect your ability to think straight. Take the time to declutter your life and get rid of the things that don't bring you joy anymore. If letting go is too difficult, then self storage might just be the perfect solution for you.
At StorageVille, we are the experts in all aspects of self storage; and this includes decluttering. Reach out to us today with any questions you may have. We have moving boxes, moving supplies and cube van rentals all at your preferred Winnipeg self storage location. Our goal is to make the self storage process simple for you!
---