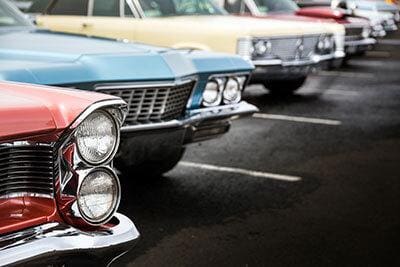 At StorageVille, we offer classic car storage two ways and at two locations; indoor storage units or outdoor storage for many of our customers. With spring fast arriving, maybe you've just removed your car from the protection of one our storage units after taking advantage of our winter car promotion – what should happen next? After a long Winnipeg winter, it's time to tune up your classic car, and go for a drive!
While you can't perform maintenance on the StorageVille lot or inside of the storage unit, we compiled tips on how to get your car into great shape once you bring it out of storage. Our first suggestion is to take it to your garage or a service centre to perform the maintenance. Read on, and learn our top tips!
After classic car storage – check your car's fluids
You'll want to check and top up all of your car's fluids, including:
Windshield wiper fluid
Coolant
Power steering fluid
Brake fluid
Engine oil
If any of your fluids are low, consider topping them up. And, if they are more than a year or two old, consider having fluid lines flushed and the fluid replaced to ensure proper vehicle operation.
After classic car storage – check under the hood and engine compartment
After you check the fluids, complete a comprehensive check under the hood and engine compartment. Make sure that nothing looks out of place. Check for oil spots or any other fluids that may be leaking throughout the engine compartment.
After classic car storage – check oil, filters, and battery
Your oil should be checked again, as should your oil filter. Usually, if you have kept your classic car in storage for more than several months, your oil and filter should both be changed before you start driving again.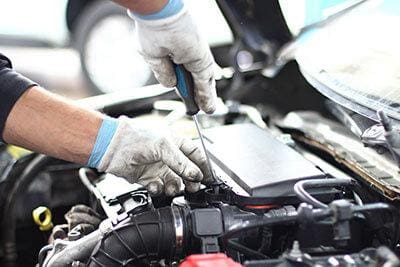 Also, check the engine filter to see if it's clean and check the cabin air filter. Finally, you should examine the battery and look for corrosion. If it's an older-style lead-acid battery that is not sealed, you may need to add some water to the battery.
After classic car storage – check hoses, belts, and blades
You'll want to examine the car's hoses and belts. Check them for any signs of excessive wear and breakage. Especially in older cars, after an extended period of non-use, the rubber can deteriorate and become brittle. You may see small cracks or "runs" in the rubber. If you do, these belts need to be replaced.
In addition to the belts and hoses, you should check all fan blades to make sure they are clean, in good condition, and unobstructed.
After classic car storage – check the tires
After classic car storage, your tires will likely need to be inflated. Most gas stations have an air station, so you can pump the tires up yourself. Bring along a pressure gauge and check them to ensure they are inflated to the correct PSI.
If you don't check and fill your tires, you could reduce your gas mileage or increase your risk of a tire blowout.
Also, you should complete a visual check of your tires for wear. If the tread seems worn out, or if you see cracks in the rubber, you will need to replace them.
After classic car storage – clean the interior and exterior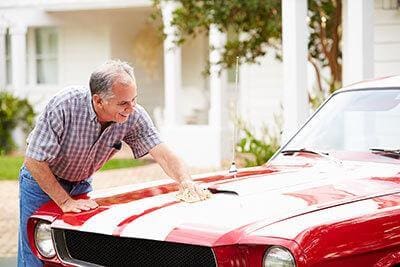 Now you're nearly ready to ride. Inspect the interior to get rid of any trash or debris that may have been left inside from the previous season. Then, wipe the interior surfaces with a high-quality interior cleaner, and wash any rubber mats that may be in the car. Then, lay on the interior polish to ensure your car shines. You can do this yourself, or take your car to a car wash for detailing.
Then, proceed with giving your car's exterior a well-deserved bath. Scrub all parts of the vehicle to ensure any grime and dust is removed from the outside. Ensure you're using high-quality materials when washing your classic car, so the paint doesn't scratch. Finally, as your car dries in the warm spring air, polish the wheels and shine the tires – which will further give your classic car the "wow" factor, as you drive past people while you're cruising.
Follow these tips – and enjoy your classic car this summer!
That's it! Once you've completed this basic checklist, your classic car should be good to go! Enjoy the warm weather, and have fun with your classic car – summer is only here for a few short months.
Remember to contact us early for next season's storage. Typically, bookings of our storage units for the purpose of storing classic cars can start as early as September. Our larger storage units, either 10×20 or 10×30 are in limited supply! As well, check back often or Like us on Facebook to learn about promotions we have in the fall.