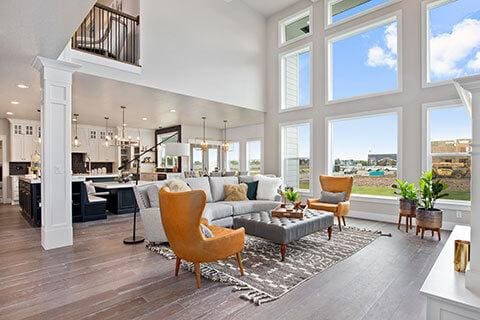 Home staging is one of the best ways to make real estate properties stand out in the crowd, therefore, getting better selling prices and finding a buyer faster. As a home staging company, you know how much work can go into making a vacant house feel like a home. Home staging is a practice in form and function, arranging carefully picked furniture pieces and décor elements that give the space the kind of atmosphere you are aiming to create.
However, when you're not staging a home – where does all that stuff go? And how do you transport the items from jobsite to jobsite? At StorageVille, we have the solution for you! There are many benefits to renting a self-storage unit for your home staging company. Find out more below!
Why should your home staging company rent a self-storage unit?
As you know, getting all the things you need for your home staging job to a new site can be complicated, as a staging company does need plenty of props, furniture, and other home improvement tools or materials for their work.
Here are the main storage unit benefits for a home staging company.
Storage unit size options
At StorageVille we offer different types of storage for our customers, both temperature-controlled units, and non-temperature controlled. Our friendly staff can assist and make recommendations as to the size of storage unit you need, based on what you plan to store. Take a look at our storage unit size guide or tour our storage unit facility virtually.
We also carry moving and storage supplies for items that are not being used in your current staging project – or to help you organize items for future use.
Length of self-storage rental
Whether you need storage for a month or for many months to come, StorageVille can accommodate your needs, whether it is for short-term rentals or long-term rentals. Read our blog post goes into detail about how long you can rent your self-storage unit for. We want to make it easy and be transparent, so all our leases are month-to-month. However, you can rent a storage unit, month-to-month, for as long as you need to!
Location is everything… and that includes self-storage locations!
Working in the real estate industry, you've probably heard the phrase "location is everything" … that goes for your self-storage location too! Having a storage space close to the area of the city you mainly operate in is crucial in ensuring convenient use. At StorageVille, we have two fantastic locations, and both are very near to centrally located routes in the city.
If you are in the north end of Winnipeg, we recommend our location at 123 Reenders Drive. If you need storage in the south end, then get a unit at our location on 830 Waverley Street.
Security of your home staging company assets
Instead of keeping all these items in your garage, constantly worrying about how well they are kept and how you will get them to the other side of the city, choose storage for home staging options that give you convenient access to your items.
The StorageVille facilities are secured by surveillance cameras 24/7. The grounds are well-lit and feature a 6-foot security fence surrounding the perimeter. The security gate and access to the interior buildings are individually passcode protected. As well, we use disc locks adding further to our overall program. And the lock is yours to keep once you no longer need the locker. None of our locks are reused or recycled.
Cleanliness and climate-control storage
We follow strict cleaning protocols for all self-storage units and the entire storage facility. Keeping your home staging items in a storage unit between uses ensures that they are clean and in perfect condition when you are ready for your next staging project.
As well, we strongly recommend opting for our temperature-controlled storage units. It is especially important if your home staging assets includes unique items like antiques. Our temperature-controlled storage is like the climate you feel in your home with use of a thermostat to regulate the air conditioning and heating. The lockers are heated in the winter and cooled in the summer.
Transportation
If you need a large vehicle to transport your staging items to your working site, StorageVille's cube van rental is one of the best options you have. Conveniently pick one up at the location of your storage unit, use your staging items for the day of an open house or photo shoot, and then return your items and the 16-foot enclosed cube van at the same time!
We make the cube van rental very easy. Many of our home staging company customers love this feature and truly appreciate the convenience it offers and the positive impact it has on their business.
Recommend us to the homeowner, your home staging customers!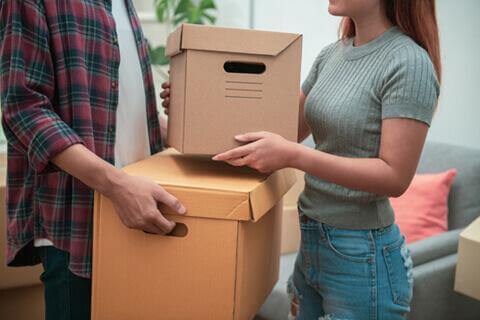 In addition to being a great way to store the supplies you need for your business; you can also recommend us to your home staging customers. While you are staging their home, they will need a safe and clean place to put their belongings. As a StorageVille customer, feel free to inform them of the many advantages to using self-storage at our facilities.
On top of the benefits for them, and for you having a rock-solid recommendation in StorageVille, the home you are staging will be easier to work with without having the client's belongings in the home. There's no doubt that without your client's stuff piled into a room or a corner of the basement, the home staging can feel that much more complete. Because of this, the results from the staging should improve, as well.
Is your home staging company ready to benefit from a self-storage rental?
With a storage unit in play, it'll help smooth logistics and planning before, during, and after each home staging job. If you're ready to start seeing the benefits and need Winnipeg self-storage services for your home staging company, contact StorageVille or request a quote online today!