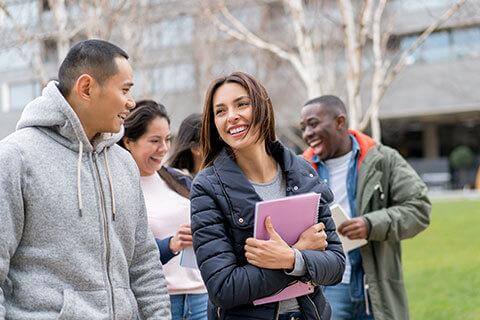 More than two million Canadians enroll in public universities and colleges each year. No matter if you're a first-year student or if you've experienced life in a university dorm before you can benefit greatly from renting a storage unit. What are storage unit benefits for university students?
Also, before we get started, we'd like to address how many post-secondary institutes, like the University of Manitoba, are handling COVID-19. With classes moving online due to the pandemic, most students made the move off-campus permanently. However, the benefits listed here have already been observed by many students who rented storage while pursuing their degrees. And, with optimism of the vaccine becoming fully distributed on the horizon, we hope that one day students will return on campus for their post-secondary education.
Your needs in a storage unit may vary
To start, if you're a first-year student, you are likely moving out of your parents' home for the first time. You might not know what you need or what you won't use. However, you'll want to ensure you're covered so you might end up bringing more belongings than you actually need. If you're enrolled in a school further away from your parents' home, this might impact your situation even more.
As for the seasoned dorm-room pro, living lean all these years can reduce the overall experiences you have. Renting a storage unit might be the perfect opportunity to get that "thing" you want, without having to worry about where you'll be able to put it. We're referring to sporting equipment, outdoor, or recreational equipment such as kayaks, camping gear, or a bicycle.
In either situation or somewhere in between, having access to store additional items you'll need can be a benefit even if you're a student. Ultimately, the needs you'll have will be based on two main factors:
Create a mess-free environment in your room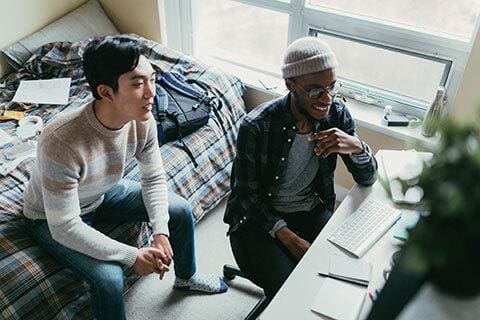 University dorm rooms are usually quite small. The average size of student housing on campus is 12 feet by 18 feet. Within your quarters, you'll need the essentials to live – a bed, a desk, a computer, a place to store your clothing and books, and in some cases a mini-refrigerator or other small appliances. In fact, in some situations, more than one individual may share the space with you. That does not leave you too much space at your disposal. When living in such a small space, it is important to create a productive environment, where you can both study and relax.
Clutter will not allow you to relax, nor study effectively. That is not an assumption, that's a scientific fact. If you want to study in peace and get ready for your exams, you need to declutter your room. A self-storage unit will allow you to have just enough space in your room to focus on your studies.
Increased security and safety for your possessions
Dorm life is a social environment. Many of your fellow peers might be wandering the building or halls at any hour of the day or night. However, you can use your storage unit to keep your valuables – off-site where they are safe and sound.
School's out for the summer – but what about your stuff?
When summer break happens, it's time to move out. Yearly moving can become quite a hassle for the average university student. Instead of lugging your belongings the distance of your trip, why not simply store them somewhere closer during the summer? Having a self-storage unit in this situation is especially beneficial if you're relocating a great distance during your break.
Two convenient Winnipeg locations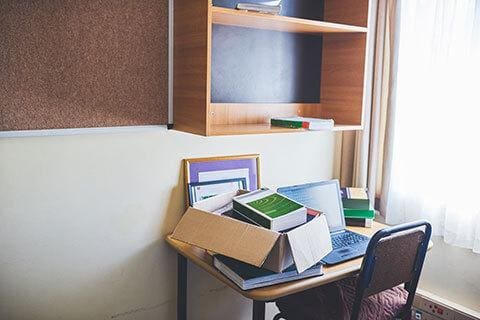 We make it easy to move your stuff a short distance with our two centralized locations in Winnipeg! If you're studying at the University of Manitoba or somewhere else in the southwest – using the Waverley location will work well! If you're enrolled at the University of Winnipeg or Red River College you might decide to select our northeast location on Reenders drive!
For either location, please contact us for more information or request a quote online today! Storageville is locally owned and operated so your storage solution is helping a local business, thank you.
Get a cube van rental – for free!
As a student, you likely try to save money where you can. One of the benefits we add-on for any move-in is the opportunity to use our cube van to haul your belongings for free for up to four hours. Please reach out to our team to learn about how this offer will apply to your rental, as the length of the free cube van usage period will depend on the storage unit size you rent.
Please visit our website for more information about our cube van rentals!
There are storage units for all your necessities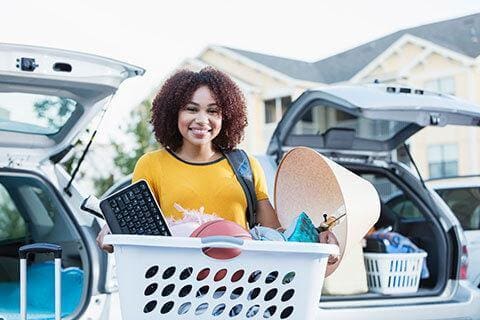 Are you looking for a large storage space to put your luggage bags in? Or do you need a small unit where you can place your textbooks? No matter what the case may be, there is a storage unit out there that will suit your needs. What size should you go for?
It depends on several factors. If you are a first-year student, perhaps it would be smart to rent out a larger unit. That will give you room to grow and fill it up over time. If you only need a unit for a certain amount of time, there is also a short-term rental. The options are flexible.
You will be completely ready for the
big

move

Around 85% of university students go on to live on their own after graduating. Getting your first apartment requires a lot of logistics and planning. If you plan on moving into your apartment, a storage unit may help you prepare for the big move.

It can allow you to move your belongings out of the dorm before finding an apartment. You can take your time looking at new places around you, knowing that all your possessions are safe in temporary storage.
Check out StorageVille for Winnipeg self-storage units
If you are looking for a perfect place to stash your clothes, pieces of furniture, or gadgets, and other equipment, look no further than StorageVille. With short-term rentals, units with temperature control, and cube van rentals online, this is a perfect place for monthly self-storage. And, vacating your storage unit is easy and can be arranged online once you're done with it.
You can keep your possessions in one of StorageVille's units for as long as you wish. Make sure to ask about StorageVille's refer-a-friend program for a discount too! Take the first step and request a quote online today.