When the holidays wrap up, we must start thinking about how to wrap up our Christmas and seasonal items. We suggest using self-storage units to help you store these seasonal items. Storage units offered by StorageVille will help you maintain a clutter-free home and keep your decorations in a temperature-controlled safe environment. Here are some of our best holiday storage unit tips to prevent damage to your favorite Christmas decorations so they are around for years to come.
Holiday storage unit used for your decorations
Ornament storage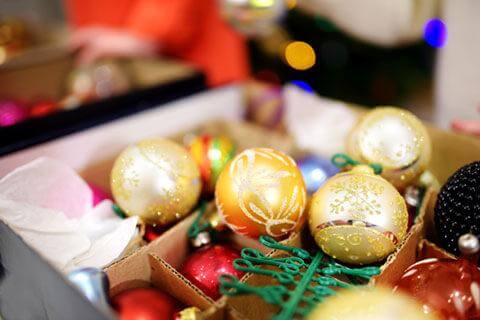 If you have the original packaging for your ornaments, this tends to be the best way for keeping them safe and damage-free. If the original packaging is long gone, you can simply tissue wrap the items and place them into plastic containers for safekeeping. Post holidays, you are sure to find some bin specific containers for ornament storage.
Bag storage for artificial trees
We find that bag storage for trees works better than the original box they came in. Using a storage bag for your tree allows you more freedom to either stand it up or lay it down depending on the dimensions of your storage unit. Also, remember, you can't bring your real tree into our storage units. And, it won't last from year-to-year.
Light Storage
We both know that your lights are never getting back in those original packages, it was hard enough to get them out. The best way to store lights is making use of cardboard. You can wrap your lights around cardboard and place them into plastic bins or even use gift wrap paper rolls that you plan to trash.
Labelling boxes and containers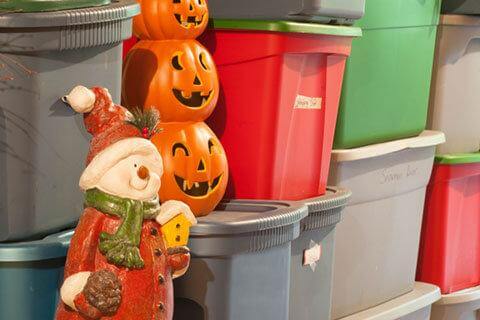 When you rent a storage unit you want to make it easy on yourself to find your belongings quickly. Labeling the outside of your containers – or using clear plastic bins – can help you stay organized.
Rack or shelving for your holiday storage
One of the biggest complaints we hear about is how holiday decor can take over storage space. To keep your holidays related stuff from over-running your storage unit, set up a holiday storage-specific shelving. Then, keep it in one place of your unit with all holiday items placed there.
Hang up what you fold
We know it's easy to fold up that tree skirt or curtains you break out for the holidays and throw them into a box. Use hangers to store folded items and cover them with plastic bags to protect them from elements. They will be ready to hang immediately, no ironing needed, and save you time next year when decorating. If you are unable to locate a hanging rack – we can help. StorageVille carries a variety of moving and packing products including a wardrobe box with a hanger bar that allows hangers to be placed.
Holiday storage unit use – make it your resolution!
Ready to organize your holiday decorations with Storageville? Give us a call so you can start to free up much-needed space in your home. We offer temperature controlled storage units to keep your holiday investments safe and free from damage. For northeast Winnipeg – 123 Reenders Drive or call 204.272.4687 and for southwest Winnipeg – 830 Waverley Street or call 204.272.4533. Alternatively, request a quote online through our website!