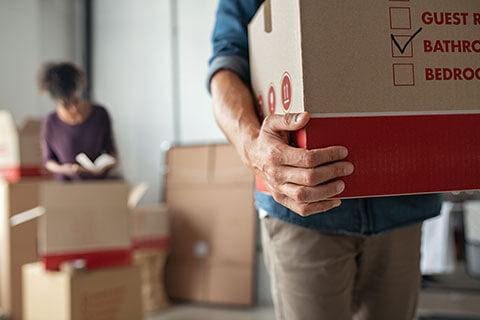 Life happens. From time-to-time, things might not always go according to plan. Or, even when they do go to plan, you still might need a little extra space for your belongings. Whatever the reason – whether it be due to a move, selling your home, renovation, family planning, divorce, or death – everyone might who have a change in their life may need a storage unit rental someday. But, know what we are here for you – no matter the circumstance or situation. Renting a storage unit can have many different benefits for each of these situations. Best of all, we'll make it quick and easy for you to rent a self-storage unit so you can get back to the other things that matter most to you.
What are your options?
Renting a storage unit is a great solution for many families or individuals who have belongings that are not in use at a certain time. Or maybe you need to store business documents or are a sales rep who needs their own "warehouse". We all know how stressful life is when your house is cluttered, or when you must deal with a complicated move, for example.
That is where self-storage unit rental can come in handy. Renting a storage unit can solve a wide range of problems.
However, one question a lot of people ask us is "how long can I rent a self-storage unit for?"
Being the experts in Winnipeg self-storage solutions, we'll tell you exactly. Read on to learn more about the process, the advantages, and how we structure our storage unit rental agreements.
First, what are self-storage units?
One of the most common forms of private storage services is renting a self-storage unit. The service is straight-forward and simple: you contact us to rent a unit. Once we've completed a short rental agreement form together, you're given a lock, included in the first month's rent and a personalized gate and unit alarm access code. Then, you can bring your items to the storage unit and load them yourself. From then on you can come and go as you please, no need to check in at the office.
While this transaction sounds basic, StorageVille also offers a slew of other value-added services and conveniences. For move-ins we waive our cube van rental fee for up to four hours, depending on the locker you choose to rent. We have a host of moving equipment and supplies available for rent or purchase at each of our conveniently located Winnipeg facilities. Finally, when it is time for you to go, we offer savings on the cube van rental, discounted at 50% off.
Advantages to rent a self-storage unit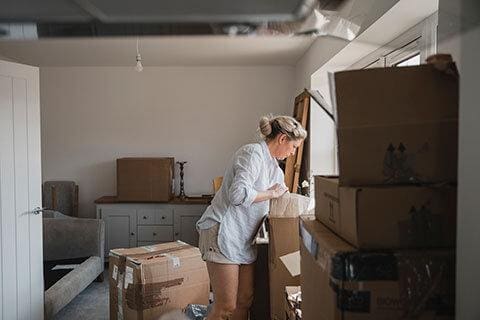 One of the main advantages of this service is flexibility. The fact that you can organize your items as you wish, and load or unload them at a convenient time makes self-storage an attractive option.
When you're looking for a storage unit for rent, it is important to know what your exact needs are. Some items, like antique furniture, books, or wine collections, need temperature-controlled units. Other items like lawn furniture, bikes and garden tools are best suited for our non-temperature-controlled units. We have many different storage unit sizes and if you're not sure what size you need try our storage unit size guide or take a virtual tour.
Self-storage units are in a secured compound area and every locker is alarmed and monitored by BellMTS Business Security. We have surveillance cameras, alarm systems, perimeter fences, and more.
Long-term or short-term storage unit rental?
In terms of flexibility, we rent our self-storage units on a month-to-month basis. We don't force you into some agreement for a minimum period or a long-term lease. We believe in keeping the tenant and storage facility relationship as simple as possible. We also feel flexibility is important for today's businesses and private customers. They might need to store a few boxes for a couple of weeks, or they want long-term storage for their memories or files.
Our storage facilities can accommodate your belongings for as long as you need. This means that you never have to commit to your locker for more than a month at a time and we only need 21 days' notice indicating your preferred date of move out. Also, when you rent a unit from us – let us know of your plans so we can assist you in any way that will make your experience with us, as good as can be.
Renting a storage unit in advance helps
While not always possible, we recommend booking your self-storage unit as early as one- to three- months in advance. This will help us ensure you'll be able to get the type of unit, the size you want, at the location you desire – for example a 5×15 temperature-controlled unit at our Waverley location.
Easy vacating
Another benefit when renting a storage unit from StorageVille is how easy we make the vacating process. Simply, just contact us with the date you're leaving or fill out our website's vacating form online. And, then come move your stuff before the date you're vacating and clean your unit.
Rent a self-storage unit in Winnipeg
Are you looking to rent a self-storage unit in Winnipeg? StorageVille has a solution for every customer that passes through the door, or phone us or use our request a quote form. Our friendly self-storage staff are standing by ready to help you with the rental process. Get started by contacting us today!