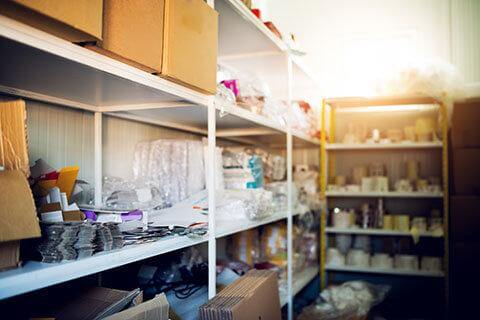 A self storage unit can become disorganized and difficult to keep clean in several ways. Perhaps, when you moved in, you were in a hurry and didn't have a chance to put things into the unit in an organized manner. If all of your belongings aren't organized and scattered around the floor, it can make it hard to know what you have. As well, it'll make tidying the storage unit increasingly tough. While we don't necessarily have any rules for cleaning units until you are moving out, we will always recommend that a clean unit is a happy unit! And, that's why we wrote this guide for cleaning your self storage unit during and after renting!
Tips for organizing and cleaning your self storage unit during renting
Start by inventorying what is in the storage unit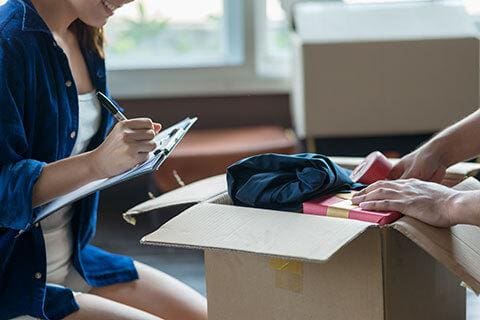 The first thing you'll want to do is create an inventory of what's in the unit. If you already have some boxes with labels outlining their contents, this will be helpful. We suggest labeling boxes on the top and sides.
Otherwise, start by making a list of what you see, and then start going through individual boxes to look at their contents, and add each one to your inventory. This inventory will help you keep track of what you're going to keep in the unit – and what you'll get rid of.
Clear some space to sort your stuff
Next, you'll need to clear out some space in your storage unit so that you can start sorting your stuff. However, all of your belongings need to remain inside of your unit. Please don't stack items in the hallway or outside of your unit. If you feel you need access to your items overtime create an aisle up the middle of your locker to access items in the rear of the locker.
You can also stack some of your stuff up to create more space or move boxes or move other items to your vehicle temporarily until you've got more room to work in your unit.
Start sorting through your items (and ask for help!)
Next is the fun part – sorting through your piles of items and determining what you want to keep and what needs to go.
You can do this by yourself, but we recommend asking a couple of friends or family members for help with this, particularly if you have a lot of stuff to go through. This can be particularly useful if you're organizing storage space and maybe getting rid of some stuff with sentimental value. Remember, no food of any kind in any kind of container, flammables, paint, propane, and other materials are not allowed.
For more information on sorting your belongings, continue to read below for tips on dealing with items you don't want any more.
Once you've sorted, put your storage space to work for you!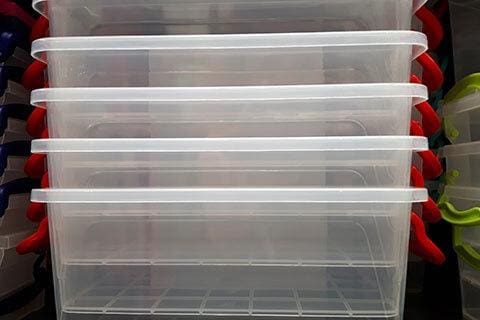 Your self storage unit experience will be what you make of it. In most situations, especially if you're going to be renting the unit for a long period, we recommend investing in shelving and other organizational tools, like clear plastic bins, to help stack belongings.
Not only will having your belongings on shelves and bins help with keeping your belongings organized, it will give you more floor space to work with. It'll make cleaning or moving around in your storage unit easier. With your stored items properly organized, your satisfaction with your unit will increase!
After you've went through the task of organizing and sorting your items – don't just put them back into the unit any old way. Create a plan or hierarchy and stick to it. Find tools and other methods that you can use to continue to keep things orderly for yourself.
Be careful not to stack cardboard boxes too high as the weight may crush the lower boxes and could be a hazard.
Still looking for tips to stay organized during a rental?
If you're still looking for tips for staying organized during your storage unit rental, we've created a couple of in-depth articles in the past. We encourage you to check out and read for more information.
As well, as your Winnipeg self storage unit rental experts, we're primarily here to help you. If you have any questions, please reach out and ask us!
Tips for cleaning your self storage unit after renting
Make different piles or areas for selling, donating, giving away, disposing of Items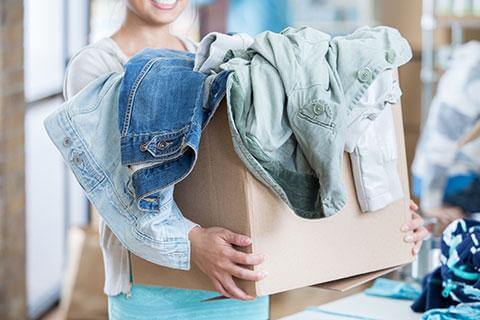 Depending on how much time you have before, during, or after you're storage unit move-in or out – you may be organizing your belongings at any time. However, the key is to organize, which will remove the burden of carrying or moving unwanted items. And, the best way to sort through your stuff is with a "four pile" system:
Sell – This is for items that you don't need but are valuable and could actually fetch a good price at a yard sale, on eBay or Kijiji, at a second-hand store, or elsewhere.
Give away – Giving away useful items to friends or family members is a good alternative to selling them if you don't want to bother with the process, or if the items don't have a particularly high resale value.
Donate – Things like old clothes and furniture, unused appliances, old books, and other similar items can be donated to do some good, and to get a bit of a tax break, in some cases!
Trash – This is for stuff that is not worth giving away, selling, or donating, like broken appliances, anything that may have been ruined while in storage, and other such items. Consider hiring a junk removal company if you have a lot of stuff to get rid of. If you're already at your storage unit and you have items to dispose of, you need to take them home or offsite to trash them.
Cleaning your self storage unit after your rental
For the best results we recommend you are well-organized and have already dealt with disposing of items in various ways before you move out. The day will be hectic enough without having to take additional steps to deal with some belongings. Here are the steps for vacating
Before your move-out date
Before the date, you need to inform our office that you will be leaving giving us 21 days' notice. If you do not tell us, we will continue to charge you for the service, as the service we provide will continue until you ask it to stop. There are many ways for you to let us know that you are leaving – contact us via phone, email, use our website's vacating form
Arrange transportation for your belongings. Whether that is a moving company, friends and family, or through any other means. You are responsible for ensuring that your moving plans can occur before the date your rental agreement ends. As well, StorageVille is always here to help, we offer flexibility, accessibility, and can even rent a cube van to you for a reduced price! If there are other ways to help, let us know and we'll do our best to accommodate your requests.
Remove all items from your self storage unit that you don't want. Make it easy on your future self and organize your unit before you move. Follow our tips above for best results!
On your move-out date
We don't recommend leaving your move-out date for the last possible moment, but if you don't have a choice, make sure you start early in the day. However, for best results, giving yourself an extra day or two before your vacating date is best. This won't force you to rush and will give you an opportunity to address unforeseen issues, should they come up.
On the move date, show up with your transportation or come into the office if you're renting a cube van to finalize the details. We also carry an inventory of moving equipment and moving supplies, for purchase, should you need.
The key is to be organized in an effort for this day to run as smoothly as possible.
After you've moved your belongings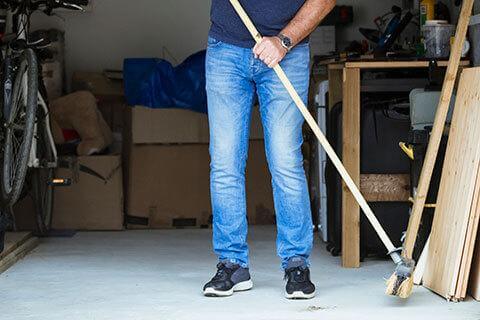 Once you've relocated your stored items offsite, you can come back to your empty storage unit to clean. Depending on how much upkeep you've done will determine the length of time this will take. We require all rentals to be returned to the condition they were first rented at. This will require you to sweep the floor, at a minimum.
If you rented a cube van, you can return it for an after-use inspection. And, once you're finished with your storage unit cleaning, we conduct a quick walk-through with you to ensure everything is in order. Then, you are "checked out" of the facility. For the safety of other renters' belongings, you will no longer have access to the storage unit facility. So, make sure you have all of your belongings before you check out!
That's all it takes! Of course, if you need a self storage unit in Winnipeg in the future, we hope you think of us! We truly appreciate your business and would love to offer you our services again!
Need storage space in Winnipeg? Come to StorageVille!
At StorageVille, we have a huge number of Winnipeg storage units of all types and sizes. If you need additional storage, we're always here to help – contact us online or give us a call at 204.272.4687 (Reenders Drive location) or 204.272.4533 (Waverly Street location) now!