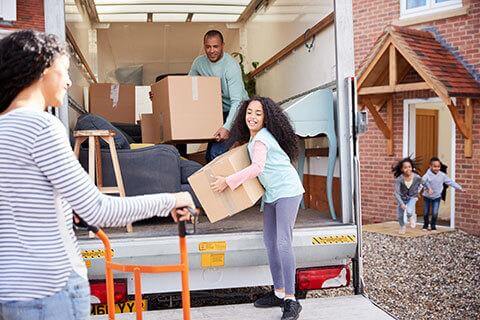 If you've used a storage facility before, whether temporarily, or for a long-term rental, you may have heard the term "self-storage". Initially, it might not make sense – after all, you're not storing your stuff in your own unit – but you're renting it from a company. But, with good reason, it's called self-storage – and we'll explain why and other details you might want to know about self-storage. Let's get started!
Self-storage is short for "self-service storage"
Self-storage is just a shorter way of saying "self-service storage." This means that, rather than having a company pick up your stuff and store it at their facilities, you pay for the ability to rent a storage unit.
Then, you move your own stuff to the unit. Because you're responsible for taking care of this step, this method of storage is known as "self-service storage," hence the shortened term "self-storage."
How do my belongings reach the self-storage unit?
As indicated "self-storage" is self-service storage. It's your responsibility to haul your belongings to and from the storage unit facility. If you need assistance or equipment to transport your items, it's on you to plan for this.
Of course, we try to make the transfer of your belongings easier for you. At both our Winnipeg locations we sell moving supplies and have tools for moving available to rent. As well, we have a fleet of cube vans available for rent. In fact, ask us how you could save money on the fee for renting a cube van – or possibly rent one for free!
Different types of self-storage are available
There are different types of self-storage available at StorageVille and similar self-service storage companies. Most commonly, you'll find services like:
Personal storage
If you have too much stuff, are downsizing your home, or just want to keep some of your stuff safe somewhere other than your residence, personal storage may be right for you.
Business storage
Businesses often need to store things like office furniture, documents, and unused equipment for long periods of time, and a self-storage unit for business storage is ideal for this purpose.
Outdoor storage
Outdoor storage is often used for things like boats and RVs, particularly for those who may not have space to store their outdoor vehicles or gear during the "off-season."
Selecting the storage unit size for your needs
Depending on your particular needs, any of these types of self-storage may be right for you. At StorageVille, we have a variety of storage unit sizes, including:
5×5
5×10
5×15
10×10
10×15
10×20
10×30
Our friendly team of caring individuals can assist you in determining the perfect size of a storage unit for your belongings. As well, we have a virtual tour of each of our StorageVille locations, a virtual tour of each storage unit size, and a storage unit size estimation tool.
Comparing temperature-controlled versus Non-temperature-controlled storage
When choosing self-storage, it's important to consider the difference between temperature-controlled and non-temperature controlled storage.
When should you use temperature-controlled self-storage?
Typically, temperature-controlled storage is a better option for your valuables and personal/business goods. The humidity and temperature of your unit will be fully regulated throughout every season, keeping your items in the best possible shape and preventing issues that can be caused by things like condensation, excess moisture, high temperatures, and so on. Temperature-controlled storage units are usually located inside a larger building, as this makes it easier to maintain the proper temperature for your items.
When can you get by with non-temperature-controlled self-storage?
Non-temperature-controlled storage units are not heated or cooled and are subject to larger temperature variations. They're better for things like outdoor furniture, sporting equipment, non-power tools and other things that are not a risk of being damaged by large temperature swings. These types of storage units are often free-standing, and function more like a garage – with a large door and a "drive-up" design.
Need self-storage in Winnipeg? Contact StorageVille now!
At StorageVille, we have a wide variety of different storage units for business, personal and outdoor use, as well as temperature-controlled and non-temperature-controlled storage units. Learn more and start renting a storage unit now – contact us online to get started.